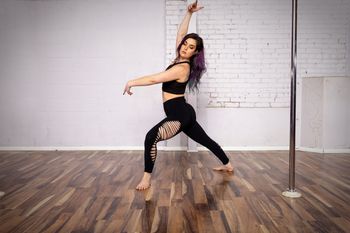 Callie began her dance journey around the age of 5 twirling baton. At the age of 12 she began her exploration of modern and ballet at the Center for Creative Arts. In 2012 Callie graduated from Middle Tennessee State University with her degree in Theatre with a Dance Concentration where she performed for MTSU Dance Theatre and Core Project.
After taking a break for several years, she decided to start exploring movement again, but this time through aerial arts. She immediately fell in love with the lyra and has been spinning for over 5 years and performs often with Equinox Entertainment Colorado. In winter of 2022 after an abrupt move to Denver, Callie reached out to Tease in hopes that they needed a Lyra instructor. She was warmly welcomed with open arms and Tease has since then been her home studio.
This year Callie launched her Embodied Dance Program, Soul Contact; where she offers embodied movement workshops and private sessions that explore energy healing for aspects of the feminine, bereavement, abuse, and more.
Callie loves teaching students in a way they begin to understand transitions to inform flow and choreography. It is her passion to guide students on their personal journey no matter their starting point. It is her core belief that dance in its many forms is a healing modality and that everyone deserves to dance!