Upcoming Single & Series Workshops
Although we have a set schedule of single classes, we love to offer specialized single & series workshops. Be sure to reserve your spot for these as soon as you have an interest - they fill super crazy quick!
Burlesque 101
Learn and be guided in our 8 week Burlesque school towards creating your own routine and character!
In this workshop you will learn the history of burlesque, musicality, working with props, clothing peels, choreography, and confidence! Create your own burlesque routine and be a start at our end of class show. Perfect for all genders, sizes, ages and levels of performers from fresh newbies to seasoned performers looking to up their style. Put together a brand new burlesque routine from start to finish, or take an existing routine and polish it up to a shine.
Sunday 10/16 1230-230pm
Sunday 10/23 1230-230pm
Sunday 10/30 1230-230pm
Sunday 11/6 1230-230pm
Sunday 11/13 1230-230pm
Sunday 11/20 1230-230pm
Sunday 11/27 1230-230pm
Sunday 11/4 1230-230pm
Graduation Show 11/11/22
Monday evening live streaming of Burlesque class for the series length, one private session with Georgia MayWake or Ashley Monroe, Photoshoot w/ 4 edited photos, and props for Group number included in the series.
All for $899. *Open to all genders, orientations, and experience levels.
www.teasemeburlesque.com or email teasemeburlesque@gmail.com for information on dates, payment plans or lessons.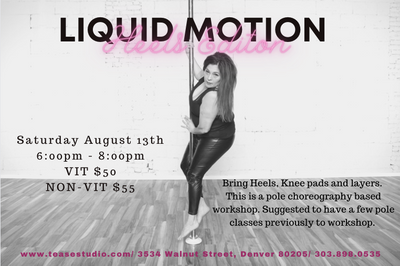 Liquid Motion HEELS Edition
This is a Pole choreography driven class.
This class is about movements that will not only move your body in sexy ways but will also invoke thought to exercise your brain. We will explore body acceptance through movements, so be prepared for guided across-the-floor sequences, rolling, and free movement.
Note: Knee pads, leg warmers or leggings, and heels are highly recommended.
Saturday August 13th starting at 6pm-8pm
VIT Members $50
NON-VIT Members $55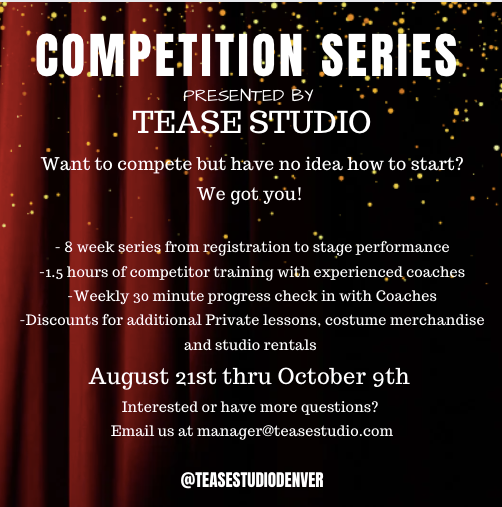 Want to compete but have no idea how to start? We got you!
Team Tease will walk you through registration placement for PSO Mountain Competition on August 15th all the way through to the weekend of the competition Saturday and Sunday October 8th and 9th. You are in great hands with coaches who all have not only competition experience in a variety of Pole/ Burlesque/ Dance and Aerial competitions as competitors and judges, Team Tease also brings years of performing as well.
*Week 1 August 19th Friday 5-630pm
*Week 2 August 26th Friday 5-630pm
*Week 3 September 2nd Friday 5-630pm
*Week 4 September 9th Friday 5-630pm

*Week 5 September 16th Friday 5-630pm

*Week 6 September 23rd Friday 5-630pm

*Week 7 September 30th Friday 5-630pm

*Week 8 October 5th Wednesday 740pm-850pm
Pricing and payments-
$800 for the 8 week series compared to individually priced services at $1216 over 30% discount. Payment plans available upon request.
Weekly coach check in.

1 hour additional competitor open pole/ studio on Sundays from 420-520pm. ( Regularly $22 per drop in)

Competitor training/ practice with Coaches 1.5 hours weekly on Fridays 5pm-630pm. (regularly semi- privates for hour half starting at $130per session)

Discounted privates of $50 if additional is needed. (regularly starting at $75/ hour per sessions)

Discounted studio merchandise for costuming
Interested or have more questions? Deadline for PSO registration August 15th. Space is limited to only 8 competitors.
Email us at manager@teasestudio.com