Upcoming Single & Series Workshops
Although we have a set schedule of single classes, we love to offer specialized single & series workshops. Be sure to reserve your spot for these as soon as you have an interest - they fill super crazy quick!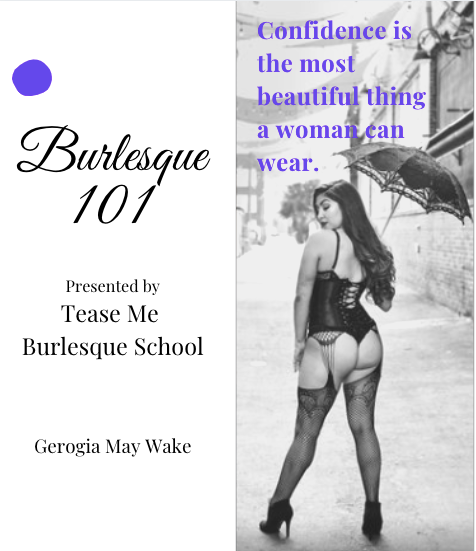 Burlesque 101
Burlesque 101
Learn and be guided in our 8 week Burlesque school towards creating your own routine and character!
In this workshop you will learn the history of burlesque, musicality, working with props, clothing peels, choreography, and confidence! Create your own burlesque routine and be a start at our end of class show. Perfect for all genders, sizes, ages and levels of performers from fresh newbies to seasoned performers looking to up their style. Put together a brand new burlesque routine from start to finish, or take an existing routine and polish it up to a shine.
*SUNDAY APRIL 4TH - LAST DAY TO SIGN UP
Sunday April 11th - 1:00 to 3:00
Sunday April 18th - 1:00 to 3:00
Sunday April 25th - 1:00 to 3:00
Sunday May 2nd - 1:00 to 3:00
Sunday May 9th - 1:00 to 3:00
Saturday May 22nd - *Preview Performance* @ Tease
Sunday May 23rd - 1:00 to 3:00
Sunday May 30th (Performance at TBD)
Monday evening Burlesque class (live streaming) at 640pm is included for the series length, one private session with Georgia MayWake, Photoshoot w/ 5 edited photos, and props all included in the series.
Only $899 for the 8 week series.
*Open to all genders, orientations, and experience levels.
www.teasemeburlesque.com
or email teasemeburlesque@gmail.com for information on dates, payment plans or lessons.
Kips, Tricks & All the Splits
Saturday May 1st 400-530pm
VIT (current) Members $35
Non Members $50
Have you been wanting to add something a little extra to your pole choreography? Let Ashlee take you to the next level with some of her favorite low flow additions. This low flow based workshop will explore dynamic dismounts, basic drops and some stall positions all while incorporating your fluidity to them.
**Must have previous pole experience equivalent to a level 2. Heels and knee pads recommended.