Upcoming Single & Series Workshops
Although we have a set schedule of single classes, we love to offer specialized single & series workshops. Be sure to reserve your spot for these as soon as you have an interest - they fill super crazy quick!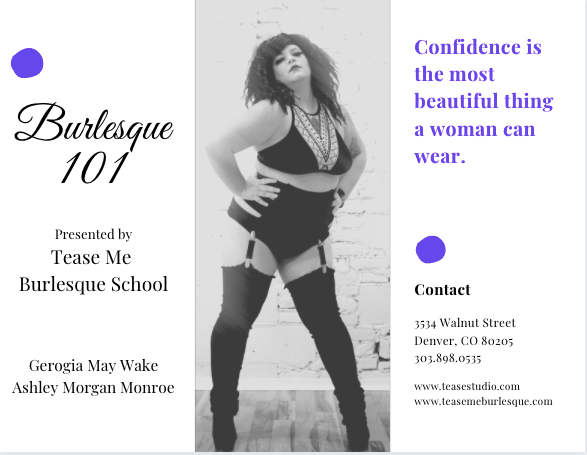 Burlesque 101
Learn and be guided in our 8 week Burlesque school towards creating your own routine and character!
In this workshop you will learn the history of burlesque, musicality, working with props, clothing peels, choreography, and confidence! Create your own burlesque routine and be a start at our end of class show. Perfect for all genders, sizes, ages and levels of performers from fresh newbies to seasoned performers looking to up their style. Put together a brand new burlesque routine from start to finish, or take an existing routine and polish it up to a shine.
Sunday October 10th - 1:00 to 3:00pm, Tease Studio
Sunday October 17th - 1:00 to 3:00pm, Tease Studio
Sunday October 24th - 1:00 to 3:00pm, Tease Studio
Sunday October 31st- 1:00 to 3:00pm, Tease Studio
Sunday November 7th - 1:00 to 3:00pm, Tease Studio
Saturday November 14th - Time TBD (4p-7p range) *Preview Performance* @ Tease
Sunday November 21st- 1:00 to 3:00pm, Tease Studio
Sunday December 5th at the Oriental Theater
Monday evening live streaming of Burlesque class for the series length, one private session with Georgia MayWake or Ashley Monroe, Photoshoot w/ 4 edited photos, and props for Group number included in the series.
All for $799.
*Open to all genders, orientations, and experience levels.
www.teasemeburlesque.com
or email teasemeburlesque@gmail.com for information on dates, payment plans or lessons.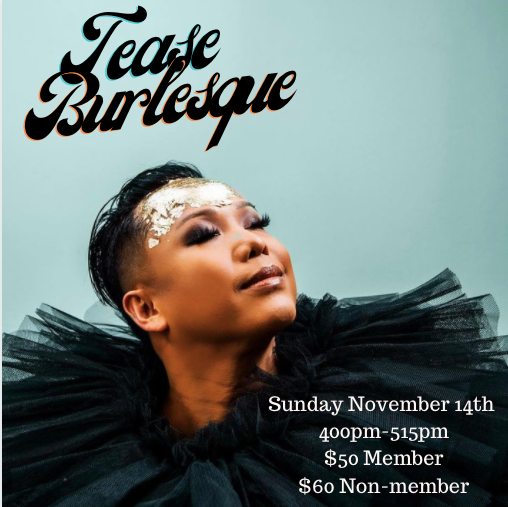 Tease Burlesque
TEASE BURLESQUE
SUWASIT takes a modern interpretation of the traditional art form of Burlesque to empower women. Encouraging them to embrace their sexuality, femininity and to be confident in expressing themselves in a sensual way.
Sunday November 14th
400pm- 515pm
$50 VIT Members $60 Non VIT members
**Artists are encouraged to bring an extra piece of clothing such as gloves, button up shirt, lingerie, hat, etc. – these items will be used during the session as props. High heel shoes are optional.
Magic in the Air
MAGIC IN THE AIR
Sunday November 14th
530pm- 645pm
$60 VIT members
$70 Non VIT members
75 min. Level: Int/Adv.
Challenge your pole skills, transitions, and combinations while in the air! Artists will
refine their technique and master variations of inversions, aerial handstands, and floor
work. Included is a short choreography using all the skills learned making this a
complete package workshop.
**Pre-requisite: Artist must be comfortable with aerial inversions prior to this
workshop.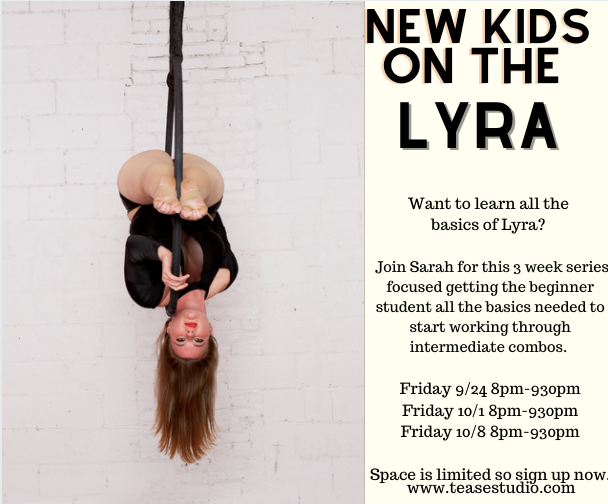 New Kids on the Block
Never tried the hoop before but always wanted to?
Now is you time to learn the basics of Lyra at your pace.
This is a 3 week series that will progress beginners through the basic level 1 series of Lyra. Learn how to grip, invert, sit and holds over a series of progressions. Class size is limited so make sure to sign up now.
All are welcome but catered to beginners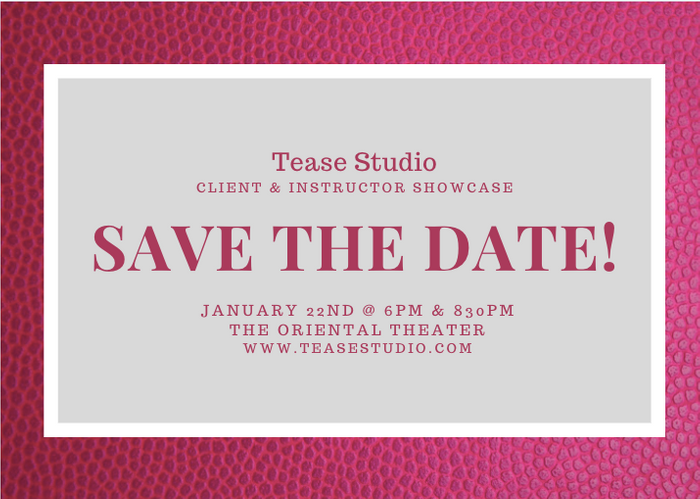 Tease Studio Showcase
Save the Date!
Join us for our next studio showcase at the Oriental Theater on Saturday January 22nd at 600pm and 830pm.
Stay tuned for more information.