Upcoming Single & Series Workshops
Although we have a set schedule of single classes, we love to offer specialized single & series workshops. Be sure to reserve your spot for these as soon as you have an interest - they fill super crazy quick!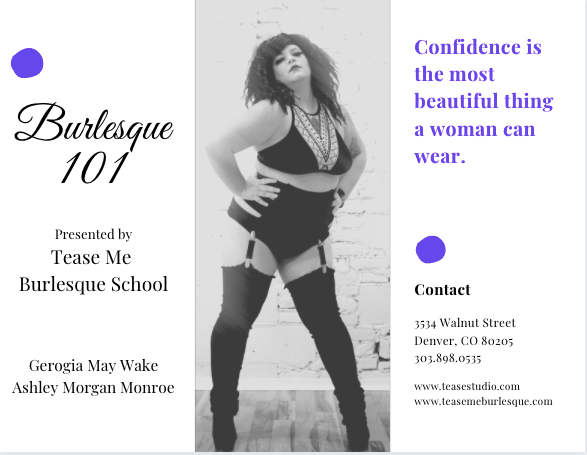 Burlesque 101
Learn and be guided in our 8 week Burlesque school towards creating your own routine and character!
In this workshop you will learn the history of burlesque, musicality, working with props, clothing peels, choreography, and confidence! Create your own burlesque routine and be a start at our end of class show. Perfect for all genders, sizes, ages and levels of performers from fresh newbies to seasoned performers looking to up their style. Put together a brand new burlesque routine from start to finish, or take an existing routine and polish it up to a shine.
Sunday October 10th - 1:00 to 3:00pm, Tease Studio
Sunday October 17th - 1:00 to 3:00pm, Tease Studio
Sunday October 24th - 1:00 to 3:00pm, Tease Studio
Sunday October 31st- 1:00 to 3:00pm, Tease Studio
Sunday November 7th - 1:00 to 3:00pm, Tease Studio
Saturday November 14th - Time TBD (4p-7p range) *Preview Performance* @ Tease
Sunday November 21st- 1:00 to 3:00pm, Tease Studio
Sunday December 5th at the Oriental Theater
Monday evening live streaming of Burlesque class for the series length, one private session with Georgia MayWake or Ashley Monroe, Photoshoot w/ 4 edited photos, and props for Group number included in the series.
All for $799.
*Open to all genders, orientations, and experience levels.
www.teasemeburlesque.com
or email teasemeburlesque@gmail.com for information on dates, payment plans or lessons.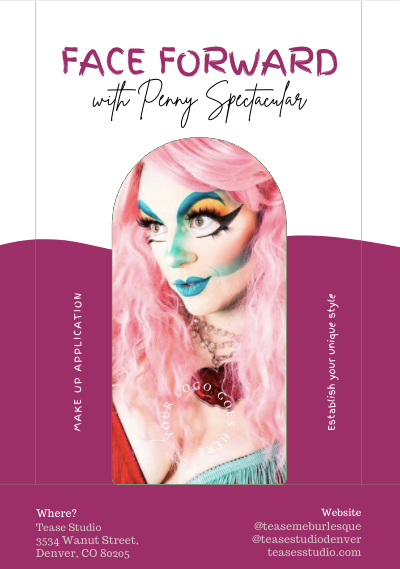 Face Forward with Penny Spectacular
Face Forward with Penny Spectacular
3 week Demo & Application series
September 5th, 19th & October 3rd
100pm-230pm, $110 per client ($42 individual sessions)
This 3 week workshop series will begin with the basics of what products, brands and tools you need to be prepared to put your face forward. Once you have your products, we will dive into all things contouring and some of the basics of application. Finally, week 3 will go over and explore different variations of bringing out your eyes. All people and experience levels are welcome.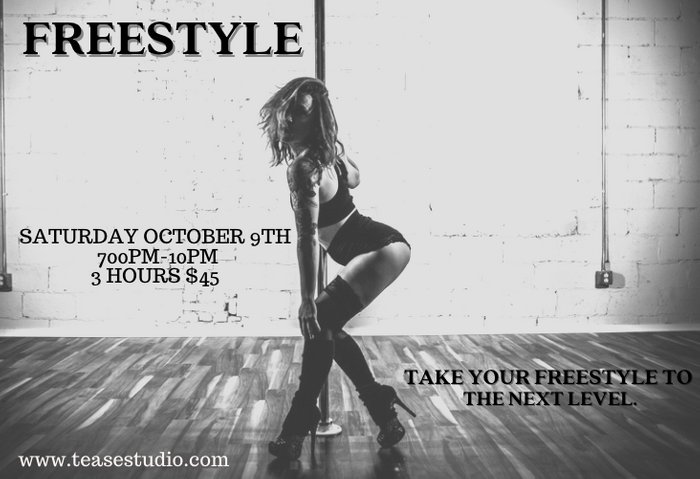 Freestyle
Freestyle
3 Hours
18 Students Max
$45
Take your Freestyle to the next level.
The first hour begins with a targeted warm-up, followed by guided exercises to build your pole expression, increase your comfort improvising, and promote courage sharing your pole voice.
The second half of the workshop will be spent alternating between group and solo Freestyles, providing every student who wants it with the opportunity to dance a short solo freestyle in a low stakes, high-support environment. Each individual freestyle will be filmed with the option to purchase an edited, high-resolution, steadicam video after the workshop.
Bring your favorite heels or barefeet, let your hair down, and experience the power of Freestyle.
A final edit of your solo freestyle is an additional $80. This cost covers a high-resolution steadicam video of your solo freestyle. Email greyce.skinner@gmail.com to make payment and order your video.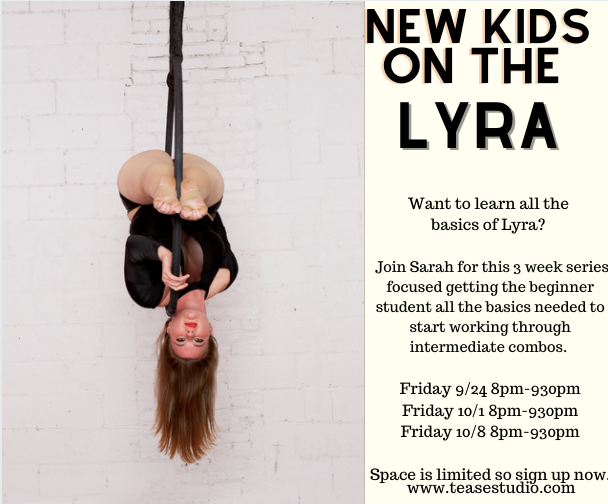 New Kids on the Block
Never tried the hoop before but always wanted to?
Now is you time to learn the basics of Lyra at your pace.
This is a 3 week series that will progress beginners through the basic level 1 series of Lyra. Learn how to grip, invert, sit and holds over a series of progressions. Class size is limited so make sure to sign up now.
All are welcome but catered to beginners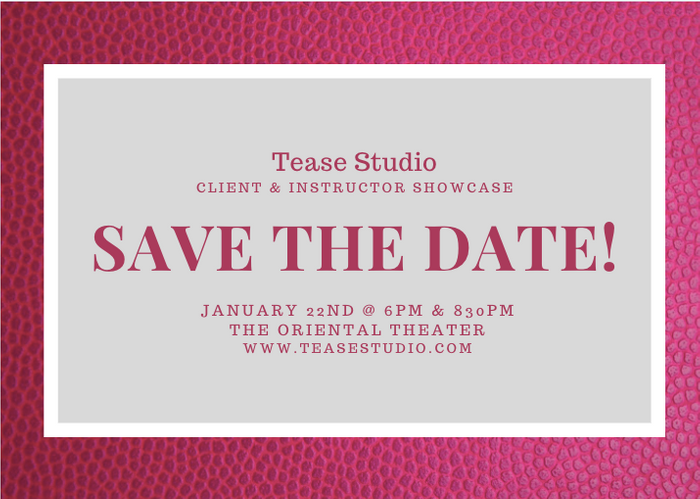 Tease Studio Showcase
Save the Date!
Join us for our next studio showcase at the Oriental Theater on Saturday January 22nd at 600pm and 830pm.
Stay tuned for more information.