Colorado Burlesque Festival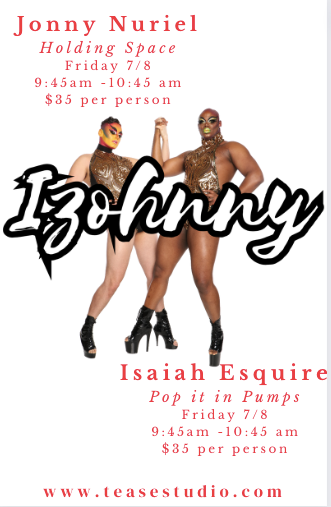 Izohnny!
8:30 am-9:30 am
HOLDING SPACE w/ Johnny Nuriel
Level: ALL LEVELS
Description:
Holding space is an essential element in the performing arts and Burlesque. How does one person successfully command an entire audience? fill an entire stage? Some of the simplest and smallest movements can often be the most effective. This ALL LEVELS class will explore posture, intention, musicality, and eye contact. Participants will focus on specific techniques geared towards enrapturing and holding the attention of your audience through the use of Holding Space.
9:45am - 10:45 am - ISAIAH Esquire
Pop it in Pumps! w/Isaiah Esquire
Level: ALL LEVELS
Description
Pop It in Pumps features Isaiah's prowess as a stage performer, Mentor, and motivator. Dancing in heels and the art of booty manipulation are specialty skills he has been teaching for over nine years to all genders and the genderless alike. Students will receive not only Training in the skills mentioned above but also the tools needed to feel powerful, sexy, and confident in their own special way. Werk those pumps! Isaiah Esquire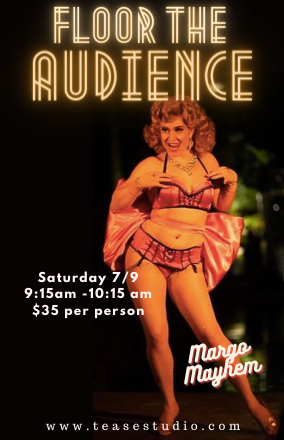 Margo Mayhem
9:15 am - 10:15 am - Margo Mayhem

Floor the Audience: Taking your stage presence to another level

Level: ALL LEVELS

Description:

It's time to get down - on the floor, that is! We'll be learning transitions to and from the ground, flexibility cheats, and floor moves to wow the crowd. Whether you're an absolute beginner or trying to hone your skills, this class will add some more bump to your floor grind. All levels welcome, heels are recommended but not required. Bring knee pads and comfortable clothing.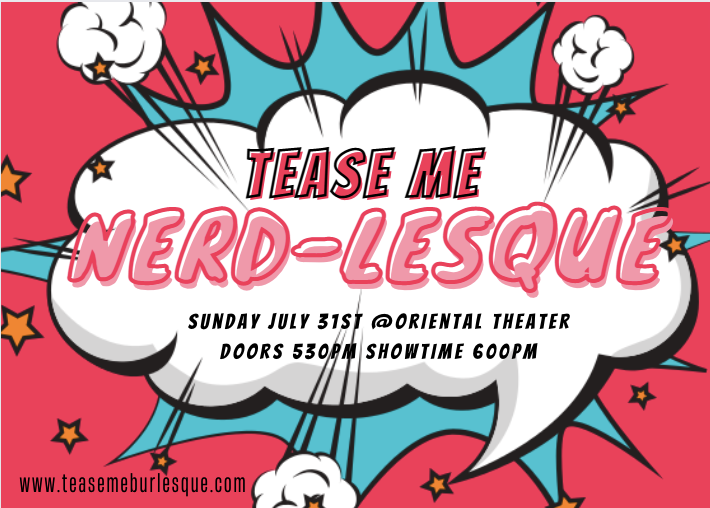 Tease Me NERD-lesque
Tease Me Burlesque is bringing the Tease Me NERDY to The Oriental Theater on Sunday July 31st with a cast that will blow you away!
Doors at 530pm with a showtime at 600pm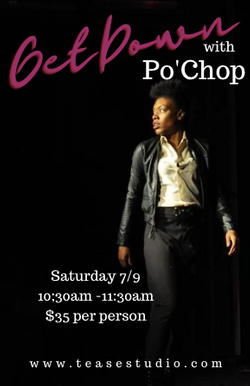 Po'Chop
10:30 am - 11:30 am

Get Down with Po'Chop

Level: ALL Levels

Description:

Get Down with Po'Chop, the BAMF of burlesque is a movement based class intended to explore Po's signature style that merges musicality, athleticism, sexual prowess, storytelling and beyond. Participants can expect to learn explosive choreography that pulls from a wide variety of disciplines such as modern dance, burlesque movement, hip hop, lyrical dance and beyond. Class begins with a warm up that leads into a choreographed phrase.

All levels are welcome. Folks should wear comfortable clothes to move in and come prepared to groove and sweat it out.

Bring water and shoes optional.