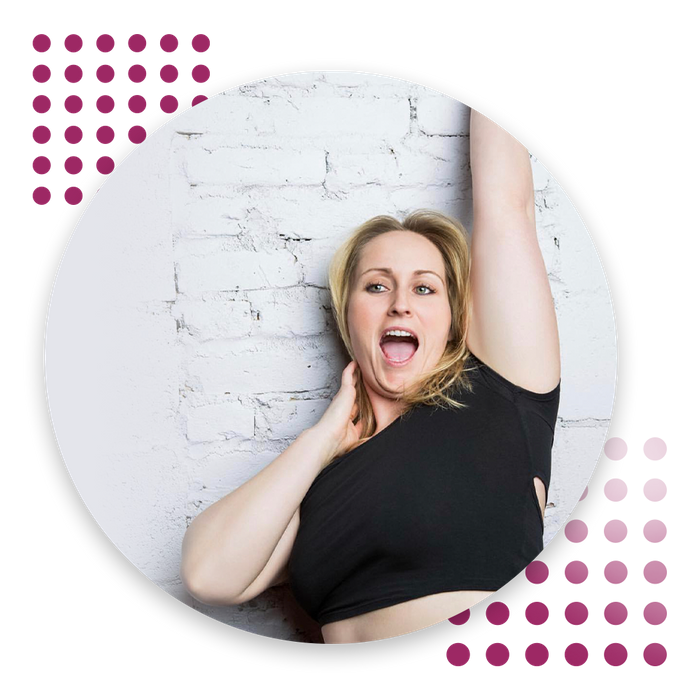 SO excited to try Tease...but I have a few questions...
It's completely normal to feel at least a LITTLE intimidated when checking out a pole or flirt style fitness class for the first time. In fact, most first time clients are super nervous walking in, but laughing and having a BLAST after the first few minutes in class! Our team is here to make you super comfy and answer any questions that you have. Here's a few that we tend to hear:
What's the parking like around tease?
Parking is ample around both of our studios.
Rino Studio: Street parking is available without meters – street parking does not have a time limit and can be found for blocks around the studio. The parking lots surrounding the studio, directly across the street and on the corner of walnut & 34th, are for client use as well.
The Pole POD (Santa Fe art district): We are located in the heart of the Santa Fe art district and have street parking all around.
What should I wear?
Totally up to you. Clients tend to wear typical comfy workout attire; t-shirt and yoga pants or tank tops and shorts. As you get more advanced with pole work, it is encouraged that you wear shorts or booty shorts because skin contact on the pole is essential. For pole classes, try bringing a pair of your favorite heels! You are not required to wear them and can stay barefoot – but many students prefer them. Some classes do suggest gym sneaks - please check out the class description of the class you're attending to be aware of any special requirements. For aerial classes it is prefered to layer up covering knees and elbows.
What should I bring?
Please bring a water bottle with you. We do sell Tease water bottles and bottled water in our retail boutique.
Also, please bring a yoga mat. As more and more studios throughout the world are moving in the direction of not providing yoga mats because of sanitary concerns, we have chosen to do the same. Mats are available for a rental fee of $5/class if you forget yours.
I'm a beginner...what class should I take?​
Pole Fitness Classes :: If you are attending a pole class at Tease Studio, we require all new students to take a "Static Pole Level 1" class, which is offered several times a week. You will be at this level until you have instructor permission to move up (we have a specific curriculum to each level that prepares you for the next).
If you are already familiar with pole fitness but have not taken a class with us before, please send us an indication of what you are currently working on by clicking here so that we can correctly place you. Or you can call into the studio during studio hours to speak with one of our staff members for guidance.
Dance Fitness Classes :: If you are checking out any of our many dance fitness classes, feel free to take any of the classes stating "all levels". Classes do differ in difficulty but our descriptions will give you an indication of this. If there is not an indication as to the level, that class is for all levels of fitness including beginners.
If you have ANY questions on how to get started with us, please reach out to us by clicking here! we would love to help you come up with a customized intro to tease schedule.
What is the difference between spin pole and static pole?
Spin pole = the pole actually spins on its own once you put your body weight on it.
Static pole = the pole is in a locked position and you use momentum to twirl around the pole.
We recommend beginning with STATIC pole before ever taking a spin pole class. Once you do decide to begin taking spin pole classes after graduating into a static level 2 class, you will begin at spin pole L1 no matter what level you are at with static pole (if you are at a high technical level, you will probably breeze through the lower spin levels, but there is still new technique and body positioning/awareness to be learned).
How do I move up a pole fitness level?
You are allowed to move up once your pole level card for your current level is signed off by an instructor and just as importantly - when you feel 100% comfortable and confident with ALL of the movements in your current level. Please communicate your desire to move up with your instructor and they will guide you, letting you know if you're ready or what to continue to work on to achieve your goal. Our team trains safe and clean technique and takes this into consideration when graduating students to new levels.