Upcoming Single & Series Workshops
Although we have a set schedule of single classes, we love to offer specialized single & series workshops. Be sure to reserve your spot for these as soon as you have an interest - they fill super crazy quick!
Want to learn a dance and then perform it on March 19th at Tease Studio's showcase?
Rachel is hosting 2 workshops that will do just that! In 2 hours, Rachel is going to teach a routine that will be performed the following weekend. Choose 1 or take them both! All levels and skill sets are welcome.
Must be willing to have fun!
Bass Babes
Saturday March 11th
3-500pm
$50
Heels and Hairflips
Sunday March 12th
1-300pm
$50
Burlesque 101
Learn and be guided in our 8 week Burlesque school towards creating your own routine and character!
In this workshop you will learn the history of burlesque, musicality, working with props, clothing peels, choreography, and confidence! Create your own burlesque routine and be a start at our end of class show. Perfect for all genders, sizes, ages and levels of performers from fresh newbies to seasoned performers looking to up their style. Put together a brand new burlesque routine from start to finish, or take an existing routine and polish it up to a shine.
Sunday 10/16 1230-230pm
Sunday 10/23 1230-230pm
Sunday 10/30 1230-230pm
Sunday 11/6 1230-230pm
Sunday 11/13 1230-230pm
Sunday 11/20 1230-230pm
Sunday 11/27 1230-230pm
Sunday 11/4 1230-230pm
Graduation Show 11/11/22
Monday evening live streaming of Burlesque class for the series length, one private session with Georgia MayWake or Ashley Monroe, Photoshoot w/ 4 edited photos, and props for Group number included in the series.
All for $899. *Open to all genders, orientations, and experience levels.
www.teasemeburlesque.com or email teasemeburlesque@gmail.com for information on dates, payment plans or lessons.
Self Luvin
This is a reminder of how amazing you are, just as you are and that you are capable of loving yourself just as you are.
Saturday June 3rd
5pm-630pm
90 minutes
After making our introductions you will dive into what self love is and how it can impact our current state and reality.You will learn a sensual choreography piece while learning to incorporate some mirror work along the way. This workshop is a guide to experiencing self acceptance and love by moving your body through dance leading to a new state of love & confidence.
*Make sure to bring a journal and wear something that makes you feel sensual and empowered.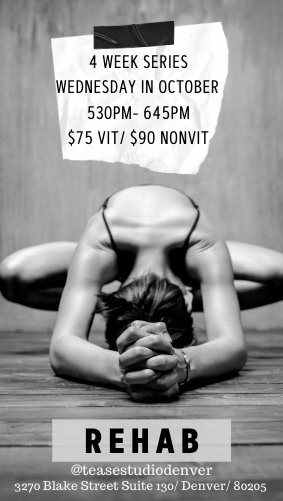 Rehab
4 week series
Wednesdays in October (10/5, 10/12, 10/19,10/27)
530pm - 645pm (75 minutes)
Location- 3270 Blake street, Suite 120
VIT $75 NONVIT $90
All bodies are welcome to come try a little rehab. This class is focused on your bodies natural mobility, maintaining healthy joints, and improving the range of motion.
A few highlights-
Increase Range of Motion.
Improve body awareness.
Injury prevention and rehabilitation.
Every week will be a focus on different areas of the body and how to combat strain.
*All levels welcome. Yoga mat and water is an absolute. Bring all the props you may use for your home practice. Questions about this workshop, email us at manager@teasestudio.com