Amanda
Instructor | Pole, Chair & Liquid Motion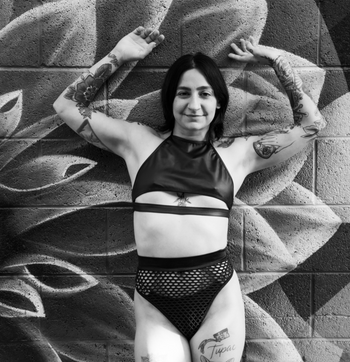 Amanda started pole dancing back in 2019 when she Googled "pole dancing," and Tease Studio caught her eye. After sitting on the idea for a while, she finally booked her first class at Tease with Ashlee Renee and quickly became obsessed. She quit her pharmacy job, started dancing full-time at a club, and her life literally revolved around pole dancing. All day, every day. Thanks to Tease, she found not only a love for pole dancing but also an amazing community.
She was asked to be an apprentice in 2021, and she now teaches static pole level 1 & 2, floor flow, liquid motion, and chair. So, if you love to dance sensually to sad emo music, you should definitely jump into one of her classes!
When she's not at Tease (though she usually is), you can probably find her at home with her fiancé, Dan, and her two cats, Vinny and Spaghetti. Or maybe doing some weird doubles stuff with her pole twin in the duo known as Brad & Chad.