Kaila
Pole / Yoga/ Fitness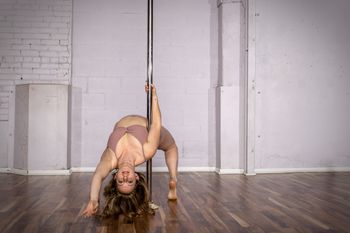 Kaila started her pole journey post break up back in California and immediately fell in love with the idea of exploring her sensual side in a safe environment. She continued to train at various studios in California and Colorado once she moved here in 2013. She found her way to Tease when we opened our Centennial studio and has never looked back. After working the front desk and taking 9-12 classes a week, she was ready to take her prior knowledge as an athlete and certified yoga instructor into teaching pole.
Pole was always an outlet for her to get out of her head and into her body and she broke away from corporate in 2021 to become a full time Self Love & Embodiment Coach and instructor here at Tease. She's continued to teach fitness classes like Body-ody-ody, Look Good Naked, Stretch and Pole Levels 1-2.5 on both static and spin.
She will push you to explore not only the depths of your movements and technical skills, but also your mind as her favorite thing to ask each student before class is, "What is one thing you love about yourself today?" She values each students journey and is not afraid to challenge you when you're ready for it and protect you when you need it. Check out her classes throughout the week to connect with her infectious energy and a good time!