Paul T
Instructor| Dance, Sling & Yoga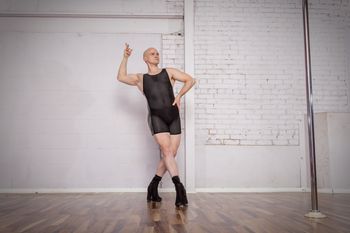 Paul has been moving and grooving ever since they can remember. Their performance journey began at the young age of 8 on stage in musicals. From then on, Paul was hooked and studied voice, dance, acting, and many other artistic endeavors in the Atlanta area throughout their childhood.
After receiving a BFA in theatre with a minor in dance from Western Carolina University, Paul went on to work as a performer. From theme parks to cruise ships to film and television to Broadway national tours, they did it all while traveling the globe.
Amongst their travels, Paul stopped by Rishikesh, India where they received their 200 hr yoga teacher certification with a focus on Hatha, Vinyasa, and Ashtanga asana practices, theory, and philosophy.
Getting to work with some of the leading names and companies in the performance world such as Terrence Mann, Andy Blankenbhueler, and RWS and Associates not only propelled Paul's performance career, but also instilled a deep love and respect for the creative process. Since the pandemic, Paul has been focused more on work behind the creative table and in the studio sharing their experience, knowledge, and passion with anyone willing to play.
Professionally, Paul has choreographed for regional theatres, show choirs, performers, and most recently helped Sir Richard Branson with the launch of entertainment on board his newest business endeavor, Virgin Voyages.
Paul's aerial journey began with their first cruise ship back in 2016 and never stopped. With experience performing on Silks, Sling, Spanish Web, Lyra, Trapeze, and some duo strongman work, Paul loves to help anyone brave enough learn how to fly.
As a gender-non conforming and queer artist, Paul's number one priority in any space is to create a safe environment for everyone to feel creatively free and liberated. With Paul's emphasis on joy, passion, self-love, technique, and form be ready to smile, laugh, sweat, and work hard anytime you are in the studio with them!
Let's fly beautiful souls!